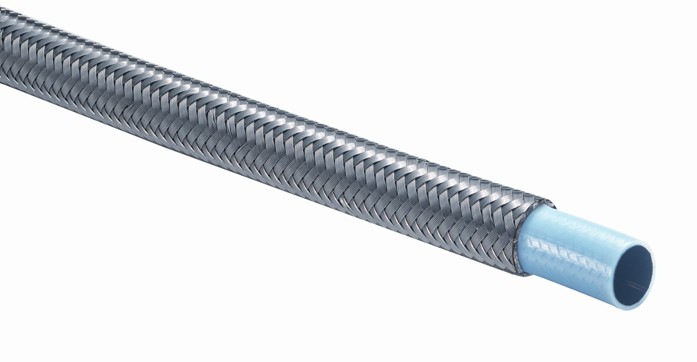 Stainless Steel Braided Anti-Static High-Pressure Fluoropolymer Hose
Our Versilon TH hose is constructed with a black electrostatic dissipating conductive PTFE inner core and reinforced with densely packed high tensile 304 stainless steel braid. TH hose is a long-life hose for high pressure hydraulic or pneumatic applications. The pressure is rated to 5,000 psi regardless of ID size. The non-stick PTFE inner core is ideal for viscous material transfer.
Versilon TH hose is designed with a full-size internal diameter to maximize the flow rate, providing greater transfer speed when compared with similar products that come with a smaller inner diameter. TH hose is engineered to reduce the pressure drop through the fitting area, promoting a longer service life. TH hose is flexible, chemical and moisture resistant and features low volumetric expansion.
Minimizes losses due to pressure drop
Anti-kink stainless steel armor available (recommended)
Flame-resistant fire sleeve also available