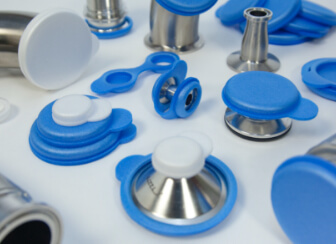 Sanitary End Caps
Tri-Covers are barrier caps designed to block and protect sanitary ends. They securely lock in place and do not get lodged inside sanitary lines. Their flexible nature and pull tabs make removal easy - with only one hand.
Tri-Covers are made from FDA approved high-purity, inert and non-particulating crosslinked PE foams. They have excellent chemical tolerance and can be cleaned with acid, alkaline or alcohol-based cleaners.
Tri-Covers are designed to fit industry standard stainless-steel ends on flex hoses, transfer panels, gas lines and other ferrules. They are made from closed cell foam and do not absorb water or moisture. Nitrogen is the only blowing agent used in foaming Tri-Covers. No greenhouse gases or ozone depleting agents are part of the process.
Blocks fluids, airborne bacteria, and particulates
Protects ends against impact
Durable, flexible, and tear resistant
Locks securely in place
Easy to install and remove
Particulate-free and FDA approved foam
Excellent chemical tolerance
Reusable
Multiple colors available