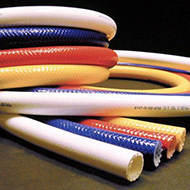 Platinum-Cured Heavy-Duty Reinforced Hose
Sani-Tech® STHT®-R-HD high purity grade silicone hose is ideally suited for elevated pressure applications where strength, durability and continuous length are critical. Designed to meet the specific requirements of the pharmaceutical customer, this hose offers a high pressure rating and complete lot traceability, and unsurpassed performance characteristics.
Sani-Tech® STHT®-R-HD is manufactured from Sani-Tech® 65 brand silicone resin, a highly biocompatible silicone hose which meets USP Class VI, FDA CFR 177.2600, USDA, ISO 10993 and European Pharmacopoeia 3.1.9 standards.
Sani-Tech® STHT®-R-HD is a non-metallic reinforced platinum-cured silicone hose that can be repeatedly autoclaved, radiated, or sterilized by ethylene oxide gas. This product remains flexible and performs as specified through a temperature range of -80°F (-62°C) to 500°F (260°C). Sani-Tech® STHT®-R-HD is available in sizes ranging from 1/2" ID through 2" ID enabling the specifier or user the flexibility of properly sizing the application. Sani-Tech® STHT®-R-HD comes in white (standard), red, and blue as stocked products. Consult the factory for additional colors or customization options. Sani-Tech® STHT®-R-HD has a Master File with the U.S. Food and Drug Administration.
High pressure ratings
Biopharmaceutical grade platinum-cured silicone
Ultra-flexibility
Improved bend radius over wire reinforced hose
Sterilizable
Autoclavable
Imparts no taste or odor
Supplied in continuous lengths to reduce installation time
Available in custom colors for line identification
Lot number traceability