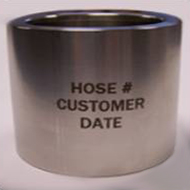 Provides a Sharp, Legible, & Professional Image
Use etched collars to communicate your most critical information. Part numbers, sizes, service date and usage recommendations are just a few examples of the types of information you can communicate via chemical etching.
Using laser technology, the etched collars will present a sharp, legible, and professional image. You can include content such as your company name, serial numbers, maintenance codes, and more. Your information will not rub off, smear, or degrade.
Sharper and more legible than acid etching or handwritten labels
Print logos, patterns, designs, and reverse type
Use product serialization for tracking purposes
Identify hose maintenance and replacement dates, part numbers, pressure and temperature ratings, and any other critical data