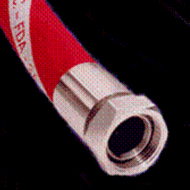 Designed specifically to meet the requirements of the beverage brewing industry
int2 Solutions offers BRH hose assemblies designed specifically to meet the requirements of beverage brewing applications. In addition to Versilon crimp style fittings, BRH hose can be used with ReSeal® fittings.
The combination of patented ReSeal reusable fittings and BRH hose provide numerous benefits. One of the most important: the significant savings that result from the ability to dismount the ReSeal fitting and reattach it to a new length of hose, as opposed to buying an entire new assembly every time hose wears out or is damaged.
ReSeal fittings also feature a full flow compression seal and smooth bore design. With no obstructions on the inner surface of the fittings, there is nowhere for bacteria and other harmful contaminants to become entrapped. ReSeal complies with key industry standards including FDA, 3-A (62.02) and USDA.
Easy to clean and inspect
Sanitary fitting assemblies are designed for CIP and SIP cleaning
Can be taken apart for thorough inspection and reassembled
Sanitary fitting well-suited to brewing and other beverage applications