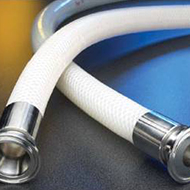 Platinum-Cured Braid-Reinforced Silicone Hose
Pure-Fit® SBP platinum-cured braid-reinforced silicone hose is an ultra-flexible, high-purity hose utilized for higher pressure sanitary transfer applications in the pharmaceutical and biotech industries. Pure-Fit® SBP hose has an operating temperature range of -80°F (-62°C) to 500°F (260°C).
The manufacturing process is carefully controlled from receiving through production and inspection and lot traceability is readily accessible and batch numbers are assigned. All packages are identified by external labeling on both the bag and the high-quality, crush-proof box. Pure-Fit® SBP hose is manufactured from the finest grade of silicone materials and is fully tested to meet USP Class VI criteria.
Improved bend radius over wire-reinforced tubing
Sterilizable
Autoclavable
Imparts no taste or odor
Color striping available
Crisscross color braiding available
Available in 50-foot lengths