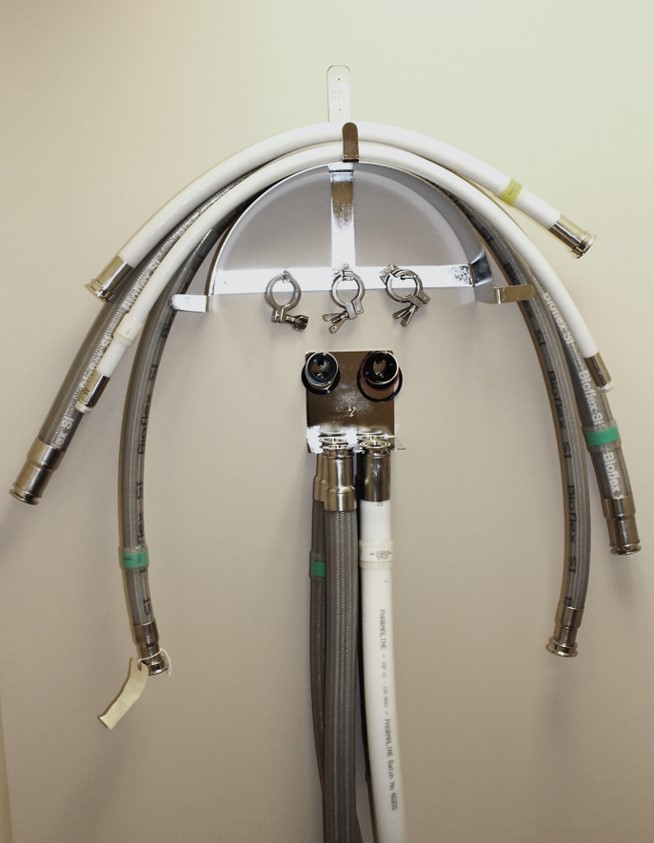 Eliminate Clutter & Enhance Safety
Proper hose storage is critical to maintain the working life of hose assemblies. Stainless Space™ Hose Racks are the perfect solution to organizing your sanitary hose assemblies. When used properly, Stainless Space Hose Racks ensure that each hose is stored in accordance with the manufacturer's recommendations.
All Hose Racks are constructed of electropolished stainless steel. Stationary units feature horizontal pegs allowing a convenient storage location for sanitary gaskets, clamps and adapters. The HSU-11, HSU-16, HSU-24 AND HSU-32 are designed for specific hose diameters. The unique arc design of the HSU-100 accommodates a multitude of hose assembly types and sizes.
Stainless Space Hose Racks keep hoses organized, off the floor and consistent with cGMP requirements. The reduced clutter and improved organization contribute to a safer, cleaner work environment and extended hose assembly life. Stainless Space Hose Racks are the perfect solution to your hose organization needs!
Compact designs for use in any clean environment
Extends hose working life and ensures 100 percent drainage
Eliminates clutter and enhances safety
Stores hoses, clamps, gaskets, and adaptors in one convenient location
Conforms with FDA and 3A regulations for hose storage