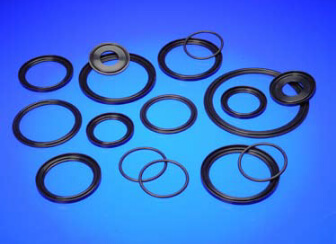 Elast-O-Pure EP75 Black ethylene -propylene -diene elastomer was developed by James Walker to meet the stringent requirements of the pharmaceutical and bioprocessing sectors. Our confidence in promoting this material is based on over 30 years of successful supply into the pharmaceutical and bioprocessing industries.
Independently tested in accordance with, and conforms to, United States Pharmacopoeia (USP) 30 Class VI.
Class leading performance with regard to extractables; independently tested TOC values significantly lower than comparative materials.
Very low compression set, so ideally suited for the manufacture of 'O' rings, hygienic clamp fitting seals and other items where long-term retention of sealing forces is required.
Excellent resistance to steam sterilization – ideal for Sterilized-In-Place (SIP) processes.
Excellent chemical resistance, including acid and alkaline cleaners used in Clean-In-Place (CIP) systems.
Excellent release properties from stainless steel after prolonged contact at elevated temperatures.
Available as 'O' rings, custom moldings, sheet and precision cut gaskets.