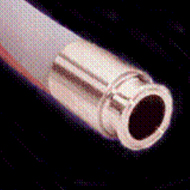 Flexible, multi-purpose food grade hose
The flexibility and tough construction of Pure-Fit® FRG were specially designed for the demanding conditions of food processing plants. The hose can withstand rough handling and high temperatures in a variety of applications.
Multiple fabric reinforcements along with a single-helix stainless steel wire enable the hose to flex easily, withstand vacuum, stand up to higher pressures and facilitate static grounding.
Our white nitrile-PVC blend inner tube is FDA-approved material with excellent chemical resistance. It will not impart any taste or odor. When flexibility and FDA-approved multi-purpose uses are required, the best food grade rubber hose is Pure-Fit FGR.
Premium quality sanitary suction and discharge hose
Cover and reinforcements designed to withstand harsh environments
Specially designed to handle oil-based materials
Imparts no taste or odor
Handles a wide variety of products
Extremely durable and flexible
Full vacuum rating
High pressure rating
Custom laylines available